Nationalitet: Tysk
Byggnadsår: 1937
Förlisningsår: 9 April 1940
Byggnadsmaterial: Stål
Fartygstyp: Tung kryssare
Last: Krigsmatriel
Maxdjup: 92m
Djup över vraket:
Längd: 202,5 m
Bredd: 21,8 m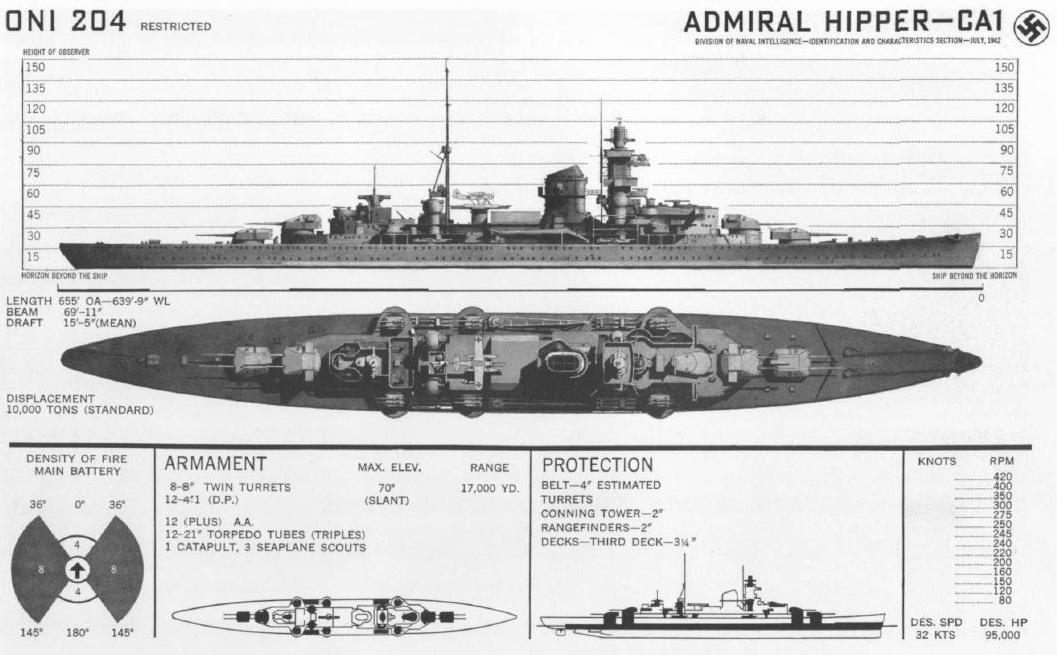 Blücher was the second of five Admiral Hipper-class heavy cruisers of Nazi Germany's Kriegsmarine (War Navy),
built after the rise of the Nazi Party and the repudiation of the Treaty of Versailles. Named for Gebhard Leberecht von Blücher, the Prussian victor of the Battle of Waterloo, the ship was laid down in August 1936 and launched in June 1937.
She was completed in September 1939, shortly after the outbreak of World War II. After completing a series of sea trials and
training exercises, the ship was pronounced ready for service with the fleet on 5 April 1940. She was armed with a main battery of eight 20.3 cm (8.0 in) guns and, although nominally under the 10,000-long-ton (10,000 t) limit set by the Anglo-German Naval Agreement, actually displaced over 16,000 long tons (16,000 t).
Immediately upon entering service, Blücher was assigned to the task force that supported the invasion of Norway in April 1940. Blücher served as the flagship of Konteradmiral (Rear Admiral) Oskar Kummetz, the commander of Group 5. The ship led the flotilla of warships into the Oslofjord on the night of 8 April, to seize Oslo, the capital of Norway.
Two old 28 cm (11 in) coastal guns in the Oscarsborg Fortress engaged the ship at very close range, scoring two hits, as did several smaller guns in other batteries. Two torpedoes fired by land-based torpedo batteries struck the ship, causing serious damage. A major fire broke out aboard Blücher, which could not be contained.
The fire spread to one of her anti-aircraft gun magazines, causing a large explosion, and then spread further to the ship's fuel bunkers. Blücher then capsized and sank with major loss of life. The wreck lies at the bottom of Oslofjord, and in 2016 was designated as a war memorial to protect it from looters. Several artifacts have been raised from the wreck, including one of her Arado 196 floatplanes, which was recovered during an operation to pump out leaking fuel oil from the ship in 1994.